2ND ANNUAL FISHING FOR A CURE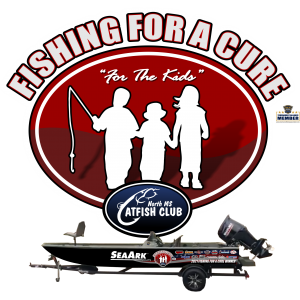 CALLING ALL ANGLERS!
We are excited to announce the 2nd annual Fishing For A Cure event. Taking place September 4th at JP Coleman State Park in Iuka Mississippi. We will be fishing one of this country's best catfishing hotspots Pickwick Lake along the beautiful Tennessee River.
This event was created to bring together anglers from across the states to help benefit what we feel is the best organization we could give back to. St. Jude Children's Research Hospital is dedicated to advancing cures, and means of prevention, for pediatric catastrophic diseases through research and treatment. Did you know that each year in the United States alone 15,780 children between the ages of birth and 19 years of age are diagnosed with cancer? St. Jude treats well over half of these children each year, turning down no child and families never receiving a single bill. No parent should ever have to lose their child to cancer and St. Jude will not stop until this never happens. I challenge everyone to come to join us in doing our part in the fight against childhood cancer.
Along with supporting such a great cause, SeaArk Boats has stepped up big and generously donated a new 2021 SeaArk RiverCat 2060 to giveaway. This boat is awesome! Fully loaded thanks to several event sponsors, custom wrapped one-of-a-kind boat. All registered anglers' names will go in the pot and one lucky winner will be drawn after the awards ceremony. That's right come fish the event and you could be taking home a brand new SeaArk boat!
Payout will consist of 1st 2nd 3rd place including BigFish. Separately there will be a large cash payout for a Big Fish Bounty.
Tournament Hours will be from 6:30 am - 3:30 pm with Livewell check beginning at 4:00 am
Tons of door prizes, product raffles, food, fellowship, and more.
Captain's meeting will be held at 5:00 pm Friday 3rd in the lobby of JP Coleman Motel. More details will be released as we finalize the arrangements.
JP Coleman State Park provides a motel directly by the ramp including many cabins and several campsites to accommodate your stay. The Lodge at Pickwick is another great location to stay only a few miles away.
Register early to secure your spot we are limited to 100 boat cap.
Hope to see you all there!
Sponsors