Local Area Coupons & Discounts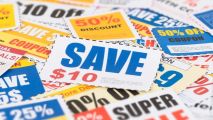 Great Deals For Participating Anglers!
Southeastern Catfish Club invites our angler participants to support our valued area sponsors and enjoy some great deals and discounts!
Coming to town, not sure where to eat or where to stay? Needing some tackle or looking for a great deal on fuel? We have assembled a great group of area businesses that are not only supporting our event but supporting you with some great deals.
These great savings offerings are easy to use. Before you arrive at our upcoming event, you can either print off these coupons or when you arrive, bring them up on your phone to present to your business of choice.
Sponsors