The American Catfishing Association Advisory Council
Advisory Council Members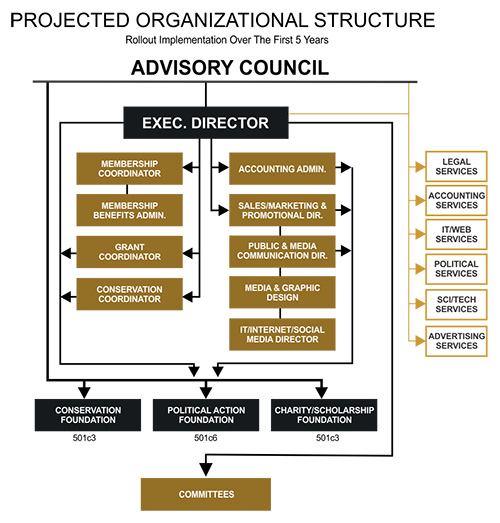 The American Catfishing Association is fortunate to have some of the most knowledgeable, experienced and dedicated individuals in the fishing industry and the sport of catfishing as ACA Advisory Council Members. The ACA Advisory Council serves as an oversight and objective group of leaders. The focus of this important council remains what is best for the sport of catfishing and how the ACA can best dedicate and serve its valued membership.
Committees
The ACA invites everyone to review the various committee opportunities and consider being part of what can surely become something substantial and special.
The ACA is being created to advance the sport of catfishing through a variety of efforts. These efforts can only be enhanced by the involvement of those with a passion, desire and willing dedication to advance the many objectives for the betterment of the sport through conservation, unification, education, membership, and alliances.
Committee & Subcommittee Information
Committee Formats
Depending on the committee, there will be a need to limit the number seats on certain committees while others will be open to all those wishing to participate. Selection and appointment to most committees will be initially reviewed and approved by the ACA Advisory Council and when appropriate outside consultants.
Once committee members have been appointed, they together will be asked to recommend a committee chairperson. Again, initially, each chairperson will need to be approved by the Advisory Council simple to ensure the recommended committee chair has the ability, commitment and dedication to administer any one committee for the advancement of the sport, the ACA membership and concerted efforts and objectives.
Council Members

Bill Dance
Unquestionably, the world's most recognized and respected angler, Bill Dance has touched generations of anglers. With over 60 years of dedicated efforts to the sport of fishing, Bill has been instrumental in developing an array of new tackle, teaching us all various techniques and has remained an industry icon supporting conservation efforts throughout the nation. A passion of Bill's is fishing for catfish. In fact, the iconic Bass Pro Pyramid actually came about from a catfishing trip Bill enjoyed one day with longtime friend, Johnny Morris. In the early days of planning, Bill was informed about the efforts to create the American Catfishing Association. On that day the catfish community advanced dramatically when Bill insisted on becoming an instrumental part of this new organization and ever since has been the ACA's biggest ally. Bill's drive and dedication to catfishing and the ACA is something we can all be thankful for.

D. Bryan St. Ama
An avid angler and outdoorsman, Bryan has enjoyed hunting and fishing all around North America. As president of one of West Texas's premier custom dock organizations and as director of the nationally respected and attended Catmasters tournament events, Bryan and his group have been responsible for setting a number of presidencies that have advanced catfish tournaments greatly. Additionally, Bryan has created a number of procedures that have advanced live well care and has increased awareness about the importance of proper fishing handling and care. As a successful business operator, a catfish tournament innovator and a strong conservation proponent, the ACA is fortunate to have Bryan as a member of the ACA leadership.

George W. Young, Jr.
As a founding member of the American Catfishing Association, catfishing has been one of the special moments George and his family have always enjoyed. As an avid outdoorsman since childhood, George has been fortunate to learn and appreciate an array of hunting and fishing pursuits. Out of all the outdoor sports most enjoyed has been the sport of catfishing. Along with my family, my time on the water with my friend and mentor the legendary Bill Dance remains one of my greatest enjoyments. Catfishing over the last many years hasn't been only a passionate hobby, but an enjoyment that has become a dedicated activity that currently includes tournaments, education and seminars and directing the highly successful Mississippi River Monsters tournament event in Memphis, TN.

Glen Thomas Oberacker
As one of the founding members that has lead the development of the American Catfishing Association, Glen's passion for fishing started at a very young age fishing with his grandfather. Since then he has fished everywhere from the Atlantic to the rich waters of Alaska. Like his passion for fishing and the outdoors, Glen has always enjoyed new business development where he thrives on putting his education, experience and talents in marketing and business management to effective use. He's been responsible for creating and launching several organizations that have gone on to become award winning industry leaders. In recent years, Glen has focused his abilities on developing an array of innovative fishing products that are used and enjoyed by tens of thousands of anglers around the globe.

Jason McDuffie
As the Director of Wholesale Accounts and Marketing Services at B'n'M Pole Company, a 73 year old family owned company based in West Point, MS., and prominent advisory council member of the American Catfishing Association, Jason and the B'n'M Pole Company remain committed to the ACA and the catfish community. Jason has been with B'n'M for 6 years and head's up of B'n'M's catfish division where he oversees all catfish product research and design, catfish conservation initiatives, sponsorships for catfish tournaments and tournament trails, and recruitment and management of the valued B'n'M Silver Cat Pro Staff.

Nick DeShano
As the COO of Off Shore Tackle Company, Nick has been involved in the fishing industry his entire life. At age 45, Nick has been actively working with Off Shore Tackle for over 30 years. Off Shore Tackle was formed by his father, Bruce in 1981. Proudly made in the USA, Off Shore Tackle specializes in trolling products and is the industry leader in planer board design, innovation, and manufacturing. Nick has spent most of his fishing career in the great lakes, but is very excited to learn about how he can respond to the needs of the catfisherman in all regions of the country. As an active advisory council member of the American Catfishing Association, Nick is excited to help grow the sport of catfishing and educate others about the sport with a big emphasis on conservation. He brings an outsider perspective which can be very valuable in educating non catfishermen about the importance of respecting all the catfish species.

Steve Henderson
As president of SeaArk Boats and leading advisory council member of the American Catfishing Association, Steve began his career with SeaArk as National Sales Manager in 2003. Today, as president, Steve has been responsible for elevating the organization to being one of the premier boat companies in the nation. Steve was no stranger to the fishing industry, having grown up in his family owned boat dealership that included three locations. The Arkansas based dealership grew its niche in the bass boat segment of the industry where competitive fishing and tournament promotion played a major role in the dealership's success. Taking this knowledge to an aluminum boat company helped SeaArk become today's leader in the ever growing catfish segment. Creating valued relationships and a Pro Staff Team to gather feedback, and listening to the needs of the customer, helped Steve and SeaArk's rise to greatness. Correct Craft acquired SeaArk Boats in 2016 and laid a great foundation with the mission statement, "building boats for the glory of God" which coincided with the existing mission of commitment to serve and apply ethical principles to make a positive difference.

Steven Miller
As a founding member of the American Catfishing Association, both fresh water and salt water fishing has been a favorite pastime that Steven and his entire family have always enjoyed, and now continues that same enjoyment with his three sons. Pursuing his passion for fishing, Steven employed his passion for over 15 years as the Sales Director for American Fishing Wire, HI-SEAS, C&H Lures and Triple Fish. During that time, many lifelong relationships were established with some of the top angler's like the legendary Bill Dance and Jimmy Houston. Additionally, over those years, Steven has cultivated extensive worldwide relationships with industry leaders and national retail chains. Fishing all over the world for both salt and fresh water species has been a passion and goal of Stevens. His support and involvement with the ISA and the ACA allows his continuing efforts in the sport of fishing and conservation remain a top priority and pleasure.