American Catfishing Association HUNDRED POUNDER CLUB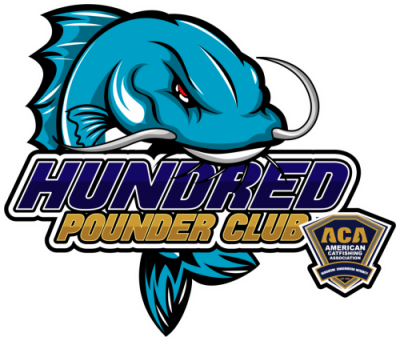 For most, catching a monster catfish weighing over 100 pounds is an exciting once-in-a-lifetime event.

To honor those ACA members that have experienced this exciting and rare accomplishment of catching a catfish weighing 100 pounds or more, the ACA has created the ACA HUNDRED POUNDER CLUB.
This unique recognition awards program is our way of saying congratulations on behalf of the entire catfish community.
"HUNDRED POUNDER CLUB" Rules
All qualified entries must be caught within the boundaries of the United States and by rod and reel only.
Catches must be made within public waters only.
Commercial fishing of any kind does not qualify.
You must be a member in good standing of the ACA at least 10 days prior to your catch. (ACA Limited Members are not eligible)
Your catch must be weighed and witnessed by at least 1 independent party and weighed by either an ACA Tournament Alliance director or by use of a certified scale.
You must fully complete the Hundred Pounder Club catch entry form (link located below).
A photo of you with your witness(s) and your catch must be taken and provided with your entry form.
Please be responsible. Your catch must be released healthy. IF YOU CANNOT PROPERLY CARE FOR YOUR CATCH, PLEASE DO NOT JEOPARDIZE THIS TROPHY CATCH FOR NOTORIETY AND/OR TO WIN A PRIZE.
Upon the competition of your Hundred Pounder Club Entry and the approval of an ACA independent review committee, you will be issued the following:
A Certificate of Achievement
A special HUNDRED POUNDER CLUB logoed cap (your choice of cap color)
A $100 Cash Prize
A fully customized MEAT HUNTER ROD that will include your name, the HUNDRED POUNDER CLUB Logo, the date and the weight of your catch built into the rod.
A fully loaded RIGRAP RIGPACK-60
A generous discount from GRAY's Taxidermy Fishing Mounts for an exact replica of your catch.
Your photo with your catch placed on a special section of the ACA website devoted only to ACA HUNDRED POUNDER CLUB members.
A specially prepared Press Release to be distributed to the entire fishing industry around the world.